Things to Consider When Planning to Remodel Your Home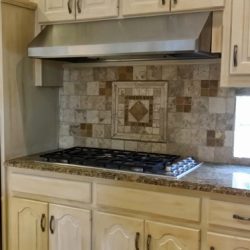 Over the last few years my wife and I have had to wrestle with the decisions related to our parents and where they wanted to live. There comes a point where it isn't realistic to expect our parents to keep a home going with all the upkeep that's required as they age. These are hard decisions, many that many times involve the selling of a family home, the pain and expense of moving, and wondering where does the parent will live. Many children are having their parents move to their homes, either in a converted bedroom or they may take a garage or section of their home and remodel it into a private residence for their parent or parents. We have been involved in some of these home refits so todays blog will go over some of the common changes that you will need to make or at least consider as you get your home ready. One thing to keep in mind as you start your remodel: consider the health of your parent as they are today but also as to how they may be five to ten years from now. When my mom first moved to Abilene she didn't use a walker – now she does.
With that in mind, my first piece of advice is about doorways. The doorways should be a minimum of 36 inches. This makes it a lot easier for your parents to navigate through rooms without catching the walker on the door. Second item to consider is lighting. Make sure, if possible, that the rooms have as much natural light coming through windows and doors, but also provide a lot of recess lights and lights on walkways outside. As our parents age they are much more likely to fall due to limited depth perception. They don't see that part of the sidewalk with the section that has raised up over time. Lighting can really help them see these changes.
Speaking of walkways, pathways and flooring, try to keep transitions to a minimum or not at all, if possible. I was working on a home a few months ago and notched the poor job that had been done on the engines floor that had been laid. There was a raised transition strip in almost every room. I tripped over them myself a couple of times. Be sure to stress with your contractor that your parent needs to have as smooth a transition as possible when going from living room to bedroom room to the bathroom. It is a little more work for your contractor and it may require you to work with them in picking flooring that works well together due to the thickness of the material, but the end result is piece of mind for your parent and you.
Another major consideration is the bathroom. If you use tile on the floor make sure you pick a style that has some type of texture in it, making it not as easy for a fall. Several years ago we remodeled or bathroom and we decided we wanted tile with a wood look. We found that if we spent a little more money, we could get a tile with deeper indentions, which has helped keep us from slipping, even when our feet or the floor is wet. If you are going to put in a walk in tub, make sure you have at least a three quarter inch water line going into the bathroom. When using a walk in tub, you walk in, shut the door and wait for the tub to fill up. If you have a smaller water line to the tub your parent may have to wait a long time before the tub fills up, leaving them sitting there with no clothes on. I hope this has given you some things to think through. If you need help or have questions please give me a call at 325-665-8025 or you can reach me at steven@dukeconstructiontx.com.